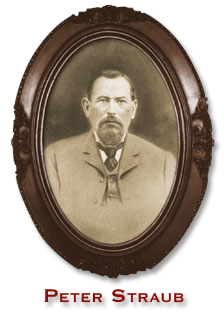 Peter Straub was born on June 28, 1850 in Felldorf, Wuerttemburg, Germany, to Anton and Anna M. Eger Straub.
As a teenager, Peter was educated and worked as a cooper, which is a craftsman skilled in making and repairing wooden barrels and casks. He also became well versed in the allied trade of Brewing.
Peter honed his trade in Germany, France and Switzerland. At age 19 (in 1869), Peter Straub traveled to the United States and settled in Allegheny City, Pennsylvania, working at the Eberhardt and Ober Brewing Company. He next moved to Brookville and worked at the Christ and Allegeier Brewery. He again moved to Allegheny City and then to McKeesport and Centerville (later renamed Kersey). In 1872, Peter settled in St. Marys.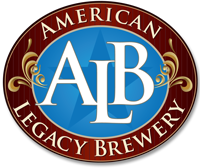 Straub Brewery is humbled and proud to be designated as an American Legacy Brewery™ because it celebrates over 146+ years of Fierce Independence in brewing! It signifies that Straub has produced quality American Lagers for more than five generations and represents the passion and dedication of a single family, who successfully managed, expanded and often protected a
way of life that the Brewery represented. Ours is a history shared by only a few surviving legacy breweries in this country. Today, a new generation of Peter's descendants carry-on his brewing traditions, maintaining the quality and relevance of our products and sustaining the heritage of Peter Straub.
In St. Marys, Peter first worked at the Windfelder Brewery, which later became the Luhr Brewery, on Center Street. In the early 1870s, Peter was hired by Francis Sorg as brewmaster and manager for his brewery.
The standard Straub Brewery founding date of 1872 reflects when Peter first moved to St. Marys and began brewing. He did not own the brewery until 1878.
Peter Straub began courting Francis Sorg's eldest daughter, Sabina, marrying her on November 23, 1875. A few years later, Peter and Sabina, along with their eldest son Francis (one year old at the time) traveled back to Germany
and then on to France, where they attended the Exposition Universelle in Paris. Peter and Sabina had 10 children: Gerard Benedict (Gerry), Peter (Sr.), Mary Crescentia (Marian, later Mrs. Daniel Curran), Alfonse James (Ponce), Peter Paul (Pete), Jacob Melchior (Fr. Gilbert), Joseph Anthony (Joe), Anna Angela (later Mrs. Frederick Luhr), Francis Xavier (Frank), Anthony Albert (Tony) and Peter Mathaeus (died at age two).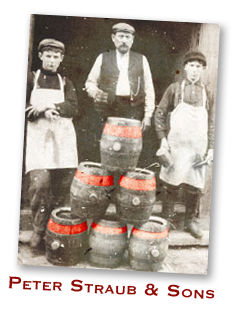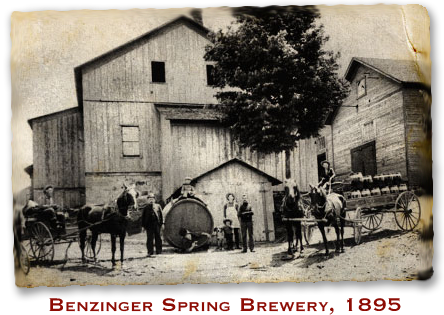 Early on, Peter introduced his sons to the world of brewing. Straub used wooden kegs for his beer. He always placed a red band around his barrels to ensure that people would know they were drinking his beer and so that he would get them back. As a lasting trademark tribute to Peter, the brewery continues to place a bright red band around each of its barrels. Red has become a trademark color for the brewery.
Following Peter's death on December 17, 1913, his sons assumed control of the brewery, renaming it the Peter Straub Sons Brewery. During this time, the brewery produced Straub Beer as well as other beer, such as the pilsner-style Straub Fine Beer and Straub Bock Beer. In 1920, the Straub Brothers Brewery purchased one half of the St. Marys Beverage Company, also called the St. Marys Brewery, where St. Marys Beer was produced. During Prohibition, which lasted from January 29, 1920, until December 5, 1933, the brewery produced nonalcoholic near-beer. On July 19, 1940 they purchased the remaining common stock and outstanding bonds of the St. Marys Beverage Company.